How To Be A Positive Role Model For Your Children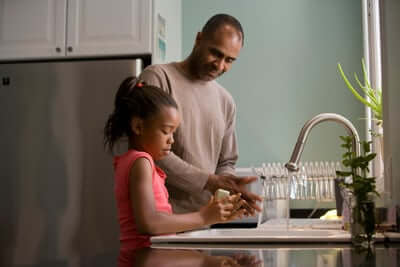 Every parent wants to be a positive role model for their children. Even if you think you are setting a good example to them, you may want to pay extra attention to the way you act and speak around your kids. A role model is someone you look up to and try to be like. As parents are the ones who spend the most time with their children, they are one of the most common role models children have in their early years. These are some of the simplest ways you can start to become a positive role model for your children, to encourage them to lead a healthy and fulfilling life.
Start From an Early Age
Regardless of the age of your children currently, it's never too early to begin teaching them good values. Even toddlers and babies can quickly pick up on what's going on around them, and what you do today may stick with them for many years to come. Teach your children honesty, patience, loyalty, and other key skills from a young age, and you'll find they look up to you as a role model throughout their childhood.
Be Honest
Parents often try to hide certain aspects of their life from young children, and while in some situations this is the right choice, honesty and openness should be cultivated in your home at all times. It's important to acknowledge to your kids if you've made a mistake or done something wrong, and they'll learn the importance of apologizing for your actions. This is a key lesson for kids to learn early on in life and will help to avoid confrontation and arguments in the future.
Communication
In order to become a good role model for your children, communication should be of top priority. Listening to everything your children have to say is key to improving their communication skills. They'll learn the importance of listening to other people and will understand that interrupting is rude. Children always have something exciting and fun to share with their parents, so give them the chance to tell you how their day at school was. You'll also find that the more you talk, the more they'll ask questions and want to learn about your life. By talking to adults more regularly at home, they'll be less nervous and afraid to talk to adults as they grow up.
Show Kindness and Care
By showing your young child care and affection, they'll understand the meaning of compassion and love. Doing things to help your child is an act of love, and kids need to learn that care doesn't just come in the form of cuddles or bedtime stories. When you help to teach your child a new skill or assist with their homework, you teach them what's important in life and act as a good role model for their education. You'll find by giving your child attention and support that you boost their self-confidence, which is something many shy young kids struggle with.
Encourage their Education
Education is one of the most important parts of a young child's life. If you want to teach your children the meaning of hard work and the importance of learning, you'll want to take time out of your busy schedule to help them with their school work. While we are not suggesting you do their work for them, by sitting with them while they read or write or assisting with art projects, they'll know how important you think this task is in their life. Kids love to achieve success and will want to make you proud by doing a good job at school. Each day, ask your child how their school day was, and take the time to reinforce the positive lessons they've learned that day.
Individuality
Young children should be taught from a young age that it's a great thing to express their individuality. Whether that's in the way they style their hair or clothes or by participating in activities they enjoy, encourage your child to follow their own path in life. By giving your child a glimpse into your work and life, you can teach them about the various paths that are open to them as they grow up.
Watch Your Words
Words have such a high vibration, and when you constantly swear or shout around your children, it will have a huge impact on their wellbeing. Watch what you say when you are within a close range of your kids, and try to be mindful of the choice of words you use to speak to them. Calling children stupid or telling them they never do anything right will stay with your children for years to come. Reinforce that your kids are amazing, and don't let them say they can't do anything in life.
Being a positive role model for your children is something that most parents aspire to be every day. Take a few of these suggestions on board in your everyday interactions with your child, and they'll soon look up to you for advice and inspiration as they continue to grow up. Your kids will develop into individuals you are extremely proud of, and more importantly, they'll become people who are proud of themselves and their individuality.