50 Famous Inspirational Quotes And The People Who Said Them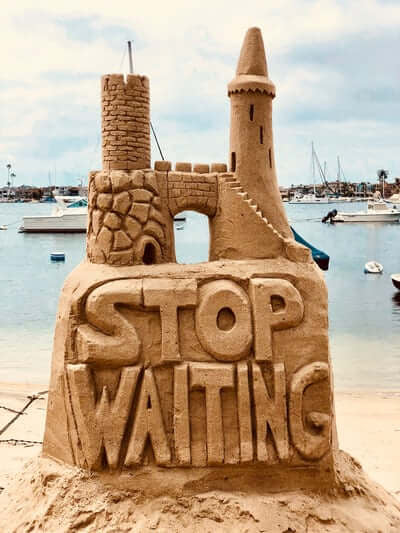 Inspirational quotes can be used in many ways to keep you motivated throughout your day. Today we've compiled a list of the 50 top inspirational quotes, which you can use as affirmations or post around your house to keep you inspired in the upcoming weeks and months.
1. "The best way to get started is to quit talking and begin doing." – Walt Disney
2. "You only live once, but if you do it right, once is enough." – Mae West
3. "Believe you can and you're halfway there." – Theodore Roosevelt
4. "When you have a dream, you've got to grab it and never let go." – Carol Burnett
5. "The pessimist sees difficulty in every opportunity. The optimist sees opportunity in every difficulty." – Winston Churchill
6. "Get busy living or get busy dying." – Stephen King
7. "It is our attitude at the beginning of a difficult task which, more than anything else, will affect its successful outcome." – William James
8. "Life is like riding a bicycle. To keep your balance, you must keep moving." – Albert Einstein
9. "Nothing is impossible. The word itself says 'I'm possible!'" – Audrey Hepburn
10. "Don't let yesterday take up too much of today."

– Will Rogers
11. "Try to be a rainbow in someone else's cloud." – Maya Angelou
12. "Sometimes you will never know the value of a moment, until it becomes a memory." – Dr. Seuss
13. "It is never too late to be what you might have been." – George Eliot
14. "Some people look for a beautiful place. Others make a place beautiful." – Hazrat Inayat Khan
15. "People who are crazy enough to think they can change the world, are the ones who do."

– Rob Siltanen
16. "Never let the fear of striking out keep you from playing the game."– Babe Ruth
17. "Keep your face to the sunshine and you cannot see a shadow." – Helen Keller
18. "Be the change that you wish to see in the world." – Mahatma Gandhi
19. "If I cannot do great things, I can do small things in a great way." – Martin Luther King Jr.
20. "We may encounter many defeats but we must not be defeated."

– Maya Angelou
21. "Spread love everywhere you go." – Mother Teresa
22. "If you have good thoughts they will shine out of your face like sunbeams and you will always look lovely." – Roald Dahl
23. "No matter what people tell you, words and ideas can change the world." – Robin Williams
24. "Each person must live their life as a model for others." – Rosa Parks
25. "Whether you think you can or think you can't, you're right." – Henry Ford
26. "Be yourself; everyone else is already taken." – Oscar Wilde
27. "Yesterday is history, tomorrow is a mystery, today is a gift of God, which is why we call it the present." – Bill Keane
28. "I have not failed. I've just found 10,000 ways that won't work." – Thomas A. Edison
29. "Everything you can imagine is real." – Pablo Picasso
30. "You are never too old to set another goal or to dream a new dream."

– C.S. Lewis
31. "It's no use going back to yesterday, because I was a different person then." – Lewis Carroll
32. "Do what you feel in your heart to be right – for you'll be criticized anyway." – Eleanor Roosevelt
33. "Happiness is not something ready made. It comes from your own actions." – Dalai Lama XIV
34.

 

"Don't spend time beating on a wall, hoping to transform it into a door."

 

– Coco Chanel
35. "Today's accomplishments were yesterday's impossibilities."

–

Robert H. Schuller
36. "The whole secret of a successful life is to find out what is one's destiny to do, and then do it." – Henry Ford
37. "Don't live the same year 75 times and call it a life."

 

– Robin Sharma
38. "You cannot save people, you can just love them."

 

– Anaïs Nin
39. "Champions keep playing until they get it right."

 

– Billie Jean King
40. "Turn your wounds into wisdom." – Oprah Winfrey
41. "Everything negative – pressure, challenges – is all an opportunity for me to rise." – Kobe Bryant
42. "My mama always said, life is like a box of chocolates. You never know what you're gonna get." – Forrest Gump
43. "What you get by achieving your goals is not as important as what you become by achieving your goals." – Zig Ziglar
44. "Instead of wondering when your next vacation is, maybe you should set up a life you don't need to escape from." 

– Seth Godin
45. "Sometimes you win, sometimes you learn." 

– John Maxwell
46. "The bad news is time flies. The good news is you're the pilot." – Michael Altshuler
47. "Life is what happens to you while you're busy making other plans." – John Lennon
48. "What lies behind you and what lies in front of you, pales in comparison to what lies inside of you." – Ralph Waldo Emerson
49. "It is during our darkest moments that we must focus to see the light." – Aristotle
50. "Do. Or do not. There is no try." – Yoda
Which of these 50 best inspirational quotes resonates with you most? Use these quotes to remind you of how much you can achieve even during the most challenging moments in your life. These words of wisdom can be repeated by you or placed around your home to provide you with inspiration to keep going through your most difficult days.